Climbax Joins Clutch as a Leading Mobile App & Web Developer in India
We are passionate about technology. More specifically, how technology can change the way businesses operate and connect to customers. With more and more people making purchasing decisions and searching for companies online, it is important that companies invest in their online image to stay relevant. We have been creating mobile apps and providing web development and design services for our clients since 2013, helping them strengthen their position with the online community.
When working with a client, our team at Climbax prides itself on our ability to work directly with our partners and provide solutions that create the most out of their investment. It is our our dedication to our client's success that has allowed us to be featured amongst the best mobile app development companies on Clutch, a ratings and review platform. Clutch is a third-party agency that researches service providers and ranks them within their industry based on their expertise and performance.
When ranking companies, Clutch bases their ratings primarily off of the feedback of past clients. The Clutch team interviewed our former clients themselves and based on their feedback we have been accredited a perfect 5 out of 5-star rating! As a company that puts so much emphasis on boosting our clients' online businesses, it is especially encouraging that their feedback about us is so positive.
Take a look at a few quotes from our first review we have on Clutch so far:
"Their strong technical skills and on-time delivery were unparalleled. Additionally, they ensured their project manager and developers were regularly available."
"They kept us informed about their progress and consulted us on any required changes. We were also able to track their work through their app."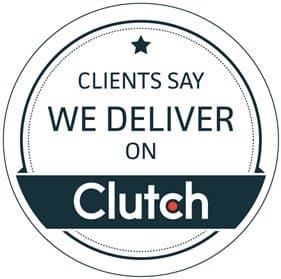 On top of being regarded so highly on Clutch's main site, we also have had the opportunity of being featured on their sister sites! On The Manifest, where our work is highlighted among similar software developers in India. This site provides industry reports and other metrics to help companies narrow down their search for the right service provider.
More and more companies are expanding their brands to an online platform. Mobile apps benefit businesses by allowing them to reach new audiences on a more personal and interactive level and stay competitive in today's digital world. We specialize in mobile app and web development to help our clients keep their brands up-to-date and move forward!
Along with this, Climbax also excels in offering customized solutions for domains like virtual reality, gaming and digital marketing. We extend advanced services to our clients from day one of product development and rigorously focus on delivering the best quality service offerings to our clients. You can visit our site at www.climbaxentertainment.com or drop us a mail at [email protected].